We immediately gave our lodge a name – Hjemmebu. This means feel at home in Norwegian. The mountain cabin had to be a place where we felt immediately at home. We really decorated to our taste and with lots of love. You can also find all possible moderncomfortwhich gives your stay just that little more …
What can you expect?
First of all a truly unique location! On a mountain plateau (970m) with a beautiful viewon the mountains and the 2 Oknevatni lakes. Behind the lodge is a small lake where you can swim in summer – if you don't mind a refreshing dip. In short, Hjemmebu is a place where you can fully enjoy and unwind and take your mind off things!
140m² of lodge and annex
maximum 8 persons
fireplace
3 bedrooms – 1 bedroom with double bed – 2 bedrooms for 3 persons with a double bed each and upper bunk
2 bathrooms with shower
sauna
heated covered terrace with outside fireplace and seating corner
terrace with Scandinavian outdoor chairs and a fire basket with view to the mountains
perfectly equipped kitchen with 2 ovens, dishwasher, espresso machine, coffee-maker, toaster, kettle …
washing machine and tumble drier
all contemporary comfort: internet, wifi, Sonos music system, TV, DVD, satellite TV Vlaanderen and Norwegian Canal Digital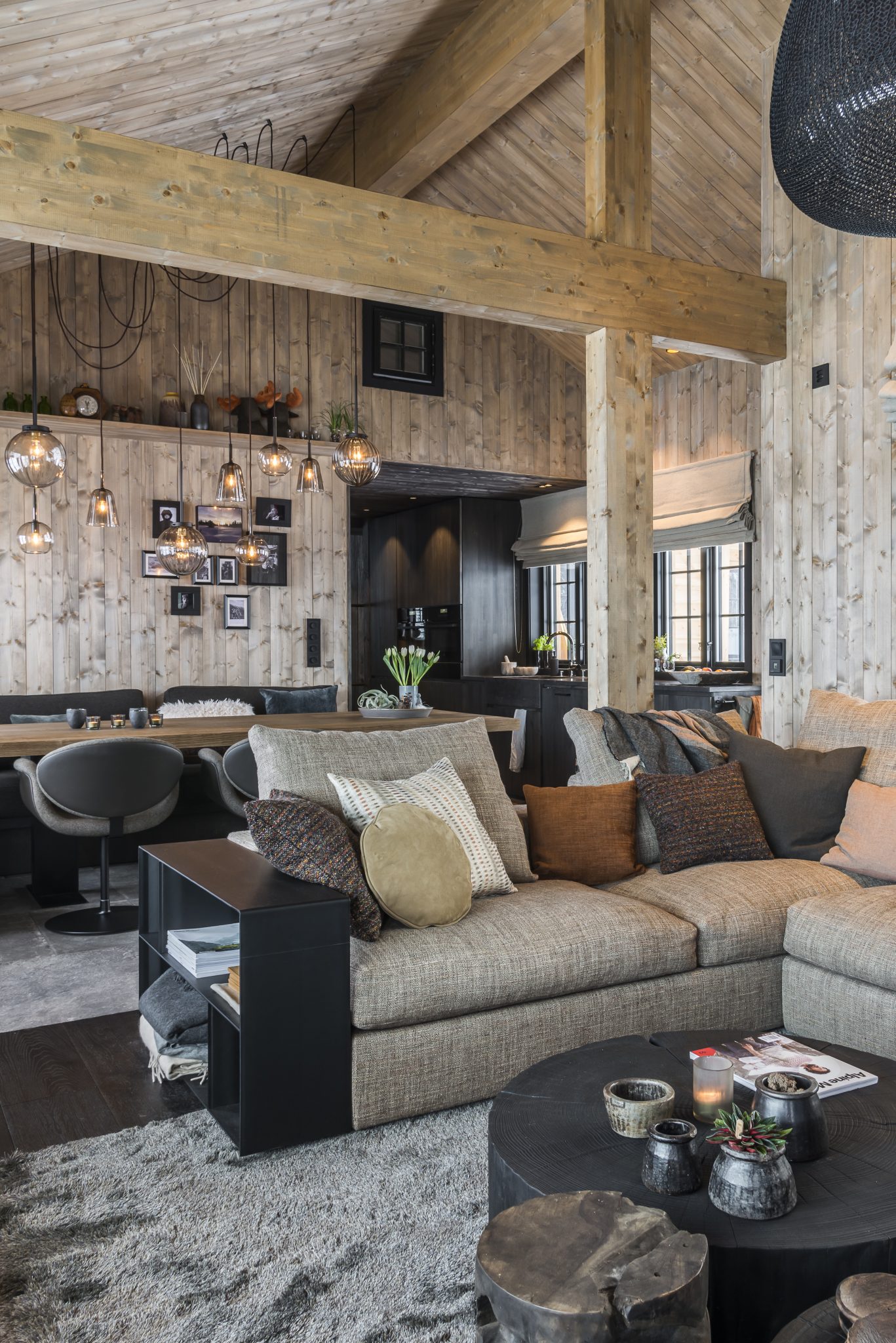 Inside
Most of all, come home in our lodge. We have really put our soul in it, in accordance with the feelathomestyle and decorated it with lots of love. All possible contemporary comfort is there for a pleasant and carefree stay.
Norway also stands for space and contact with nature. We also integrated that in our holiday lodge. Our mountain cabin is big enough for 8 people. Even inside you can feel nature. All around you can enjoy the stunning view of the mountains.
The only thing you have to do is enjoy. Here are some images to give you an idea. A taste of the atmosphere!
Outside
You are not going to Norway to sit inside … Outdoor living is a part of the way of life for the Norwegians. Hot or cold. Beautiful or less beautiful weather. At our lodge you can live perfectly outdoors during the summer months.
Both at the front and back we have built large terraces. In the front you can enjoy a beautiful view of the mountains in a Scandinavian chair around a fire bowl. At the back we have a covered terrace with outdoor fireplace, heat lamp, sitting area, table and chairs. Even if it's fresh and rainy, you can perfectly sit outside here.
Enjoy the beautiful and unspoilt nature! Take a look at some pictures here. Get a taste of the atmosphere!
Lodge location
Hallingdal - Torpoase
Lodge location
Our lodge is at 970m altitudeon Torpoasen – the plateau in the mountains near the village of Torpo. You will find the village between Gol and Äl in the Hallingdal region. This region is situated in the middle between Bergen and Oslo, close to the Norwegian fjords, glaciers and waterfalls.
The cabin is located at 195 km or a 3-hour drivefrom Oslo– including the ride from the valley into mountains. You can fly to Gardermoen (Oslo International Airport), or you can moor a boat at Oslo Stenaline harbour. Whether you leave from the port or the airport, the distance and time of your journey to our cabin are the same.
For the skiers it is interesting to know that our lodge is right in the middle between Hemsedal and Geilo, the two main ski regions in Norway.
Location of the lodge – Hallingdal region
Hallingdalis one of the most visited tourist regions in Norway and is the meeting point between East and West Norway. It is the ideal region for an active outdoor holiday. You will spend a real Norwegian mountain holidayamidst the many national parks.
Walking, cycling, mountain biking, fishing, canoeing, rafting, etc. There is so much to do.If you want to take in some of the culture in the proximity of the lodge, you can visit the Torpo Stavkirke. It is the only stavkirke (wooden church building) from the Middle Ages that has been preserved. Lots of events are organised in Gol and Äl during the summer months.
Hallingdal valley is a real skier's paradiseduring the winter months. The two main ski resorts of Hemsedaland Geiloare both located in Hallingdal. There are also many smaller ski regions.
With more than 2,000 km of cross-country skiing trails, it is therefore one of the most popular regions for the Norwegians to practise their national sport.